EDISON, NJ – DragonBoard USA is proud to announce a critical update to UL Assembly G575, expanding the use of the premium subflooring panel. UL G575 is a two-hour floor and ceiling assembly featuring DragonBoard as the structural sub-floor. "We've listened to our customer base, the architectural community and engineers to provide a product that will garner national acceptance," explains Greg Krause, National Sales Manager for DragonBoard. "Revising UL G575 is one of many steps that we are moving forward with as we continue to promote DragonBoard as a premium structural sub-floor product." The updated assembly can be found on UL's Prospector tool page under Fire Rated Walls, Floors, Beams and Columns and additional information can be found on www.DragonBoard.com.
As part of the recent update, DragonBoard has partnered with UL to expand G575 to add new framing options, including products that improve sound isolation while opening the assembly to several drywall manufactures for a more accessible, inclusive assembly that supports architects, contractors and owners on a national scale. The revised UL G575 assembly that features DragonBoard as the structural subfloor now includes, metal decking, several framing options including; cold-formed light gauge steel trusses from multiple manufactures, sound isolation mats and the addition to choose from most of the major drywall companies in the market.
Unlike Portland Cement based boards and pours, DragonBoard contains no hazardous components such as crystalline silica and hexavalent chromium, and the dust generated from construction is not an irritant. In contrast, cases of extreme exposure to Portland-based products can lead to adverse health outcomes and worse. Unlike Plywoods and OSBs, DragonBoard does not contain any formaldehyde or adhesives, nor mold or termite abatement chemicals. DragonBoard is also naturally mold and termite resistant and can be recycled for agriculture uses and is landfill friendly, making it an ideal choice. With the updates to G575, DragonBoard has expanded its reach in efforts to supporting a more sustainable future.
About DragonBoard USA
For over a decade, DragonBoard has been a key provider of premium MgO panels, having supplied 25 million square feet for numerous project types such as multi-family residential, schools and dormitories, senior living, condos and apartment towers, hospitality, movie theaters, mezzanines and modular buildings. DragonBoard is a sustainable and economical subflooring panel, offering substantial cost and labor savings in the field. These features delivering unparalleled performance and exceptional value. For more information visit www.DragonBoard.com or call 732-662-6275.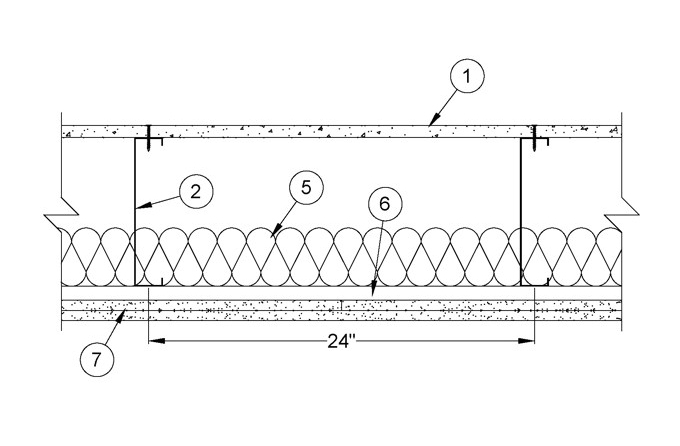 UL G575 As Shown:
1. ¾" thick flooring system designated "DragonBoard"
2. Cold-Formed Steel Joist or Truss
3. Joist Bridging (not shown)
4. Clip Angles (not shown)
5. 3 ½" glass fiber batt insulation
6. Resilient metal channels spaced 12" o.c.
7. 2 layers of ⅝" gypsum board on ceiling side
Download UL-G575: PDF | 845 kb
Or Login to UL Product IQ to View G575